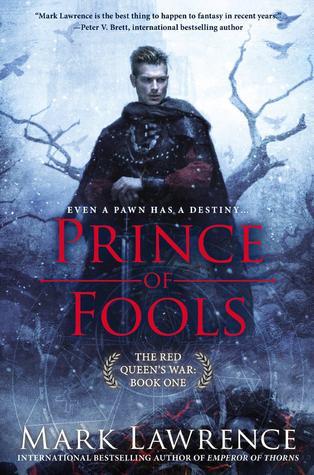 Some days being a blogger is just fun. This is one of 'em. (Are there even any bad blogging days?) I woke up this morning to a direct message from author, Mark Lawrence, who, among other things, offered to do a giveaway with signed copies of
Prince of Fools
.
I can't say that was my hardest decision of the day. Not only did I love the book (
review here
), but I get to give away a book that I loved to two lucky people, and it's signed!
The sequel to
Prince of Fools
just came out in the US and it's one of my most-anticipated books this year.
The Liar's Key
is book 2 in
The Red Queen's War
and I couldn't be more excited to jump back into Lawrence's writing. Note, this is NOT a giveaway for
The Liar's Key
.
The rules for those who want to enter for their chance to win one of two SIGNED, paperback copies of Mark Lawrence's Prince of Fools, Book 1 in
The Red Queen's War
:
1 - Send me an email to onlythebestsff@[remove this]gmail.com with your name and address.
2 - Enter the subject, "Prince of Princes!"
3 - This is an international giveaway, so ... no aliens from outer space I guess.
4 - Snark increases chances of winning future giveaways! I know I'm terrible, but how can I know how terrible I am? This is how.