Hello and welcome to the first Roundup after my vacation. On Tuesday I returned to work and got a nice surprise from my colleagues. Just read
Bona Fide: My Amazon gift coupon and me
. When you look at the books I ordered you will detect that most of them are written by female authors. Normally I don't care about the gender of an author, but I thought I would point it out given the current debates raging across the blogosphere. Enjoy the Roundup!
Books
There is one book which just missed my gift coupon order. And, of course, it is once again written by a female author.
I am speaking of
In Great Waters
, by Kit Whitfield [
US
] [
UK
]. Paperback will be released in October 2009.
"During a time of great upheaval, the citizens of Venice make a pact that will change the world. The landsmen of the city broker a treaty with a water-dwelling tribe of deepsmen, cementing the alliance through marriage. The mingling of the two races produces a fresh, peerless strain of royal blood. To protect their shores, other nations make their own partnerships with this new breed–and then, jealous of their power, ban any further unions between the two peoples. Dalliance with a deepswoman becomes punishable by death. Any "bastard" child must be destroyed.
This is an Earth where the legends of the deep are true–where the people of the ocean are as real and as dangerous as the people of the land. This is the world of intrigue and betrayal that Kit Whitfield brings to life in an unforgettable alternate history: the tale of Anne, the youngest princess of a faltering England, struggling to survive in a troubled court, and Henry, a bastard abandoned on the shore to face his bewildering destiny, finding himself a pawn in a game he does not understand. Yet even a pawn may checkmate a king." [
Source
]
Maybe the synopsis does not explain in detail why I want to read this book. I have been diligent in my research though and therefore you are only one click away from several insightful reviews [
1
,
2
,
3
,
4
,
5
].
Blogosphere
As a book lover I also have a soft spot for libraries. One of the largest and most famous libraries was destroyed a long time ago:
The Library of Alexandria
. Other libraries like the
Vatican Secret Archive
are closed to the public, but there are a lot of other impressive libraries around the world. You want to know more? Then I recommend you check out
Belle's Library
. This is a weakly feature over at Jo's
In and Paper
. A must for book lovers....
Of course I would like to have my own private library. This is my dream:
Jay Walker's library
Movies
Even though I'm an "old crock" I still enjoy animated movies. And in October (UK) and November (US) 2009 another movie based on a book by Roald Dahl will hit the cinemas: Fantastic Mr Fox [
US
] [
UK
]. Enjoy the gorgeous trailer below:
Reality - Fantasy
A lot of elements that we find in fantasy novels derive their origin from reality. This is not unusual. But when we can see, smell and touch things in reality it helps us to imagine. In a lot of fantasy novels you find pubs, taverns, inns or whatever you like to title the building where you go to consume alcohol. Most of them have a sign. And where else are you going to find so many imaginative pub signs, each with its own back story? You want to know more about pub signs and view a couple of them? Then I highly recommend a look at
Britain's Colourful Pub Signs, Part 1
Don't know what to expect? Then have a gander at the following picture - click for full view: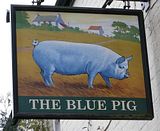 Quotes
Pubs, pub signs ... that leads me to ... alcohol! And alcohol is a topic with which quotes are very familiar. Cheers!
"
All right, brain, you don't like me,
and I don't like you,
but let's just get me through this,
and I can get back to killing you with beer.
"
Matt Groening, The Simpsons
"
Bacchus hath drowned more men than Neptune.
"
Dr. Thomas Fuller, Gnomologia, 1732
British physician (1654 - 1734)
"
My Grandmother is over eighty and still doesn't need glasses.
Drinks right out of the bottle.
"
Henny Youngman, US comedian (1906 - 1998)