You may already know or have gleaned through the years that I'm a big fan of lists. I can stare at them for hours, seeing how my readings stack up and trying to find another great gem to read.
In my search for more and more lists, every now and then I check out this site,
Best Fantasy Books
, which has groupings of the top 25 fantasy books, Best stand-alones, Best series, Great books, Good books, and until now (I don't know if it's new or if it's just been a while for me) I never noticed their list of
Worst Fantasy Books Ever
.
This is what I wanted to share today because I think it's actually a pretty good list at least as far as the general sentiment goes. I haven't nearly read all of those books on the list.
It's probably no surprise that Robert Stanek and Robert Newcomb are on the list, but I was surprised to find R.A. Salvatore as I've enjoyed what I've read of his. It's not the best ever, but certainly not the worst, although I find I have a hard time arguing with what he says:
R.A. Salvatore is one of those authors that does a disservice to the rest of the real writers out there. He writes popcorn fantasy over and over. If you want to read shallow fantasy that offers about as much nutrition as a McDonald's cheeseburger, then R.A. Salvatore's works are exactly what you need. For the rest of you who value your time, read something else.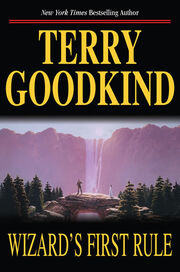 There were some others I didn't expect to find, like Shannara and Dragonlance, And then another I wasn't too surprised to see was Terry Goodkind - the blog author says:
Goodkind's book quality go like this:

first book -- readable

books 2 - 3 -- less readable

books 4 - 6 -- even less readable

books 7 - 9 -- oh my god, my eyes are bleeding

books 10 - 12 -- thank god the series is done. Oh but wait, he's signed up for MORE novels
I was just wondering what do you think? Is
this
a fair and accurate list?